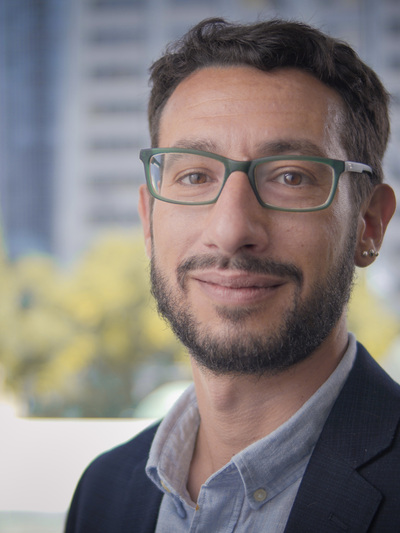 Erik Scaltriti
Italian Graduate Teaching Associate
He/his/him
208 Hagerty Hall
1775 College Rd.
Columbus, OH
43210
Office Hours
Spring 2021 (virtual via Zoom)
Wednesday 2:30 PM - 4:30 PM and by appointment
https://osu.zoom.us/j/93964452388?pwd=NzJqSUlSSGNzcU9jd2p5RU5mcGJxUT09
Meeting ID: 939 6445 2388
Password: frittata
Areas of Expertise
Italian Cinema, Literature, and Language
Media Studies and Digital Humanities
Migration Studies and Postcolonial Theory
Education
B.A., Philosophy, University of Bologna, 1999, summa cum laude
Certificate in Filmmaking, École supérieure de réalisation audiovisuelle - Paris, 2004
M.A., Italian Studies, The Ohio State University, 2017
Ph.D., Italian Screen Studies, The Ohio State University, (in progress)
Erik is a doctoral candidate in Italian Screen Studies and his research focuses on representations of migration in Italian non-fiction film.
This semester, he is working as Teaching Associate for Italian 2055: Mafia Movies. He has taught Italian Language Courses. Also, he has led recitation sections for "Introduction to Italian Cinema: Sex and Politics" (GE Visual Performing Arts and Diversity Global Studies) and "Introduction to the Humanities: Cross-Cultural Perspectives" (GE Literature, Diversity Global Studies, and Social Diversity in the United States). He has experience teaching courses on visual literacy, film production, and media broadcasting. Recently, he has collaborated with the Digital Flagship Initiative as a fellow of the Center of the Humanities in Practice.
As a filmmaker, he has directed and produced documentaries, television programs, and short movies which include a variety of topics and testimonials: from war veterans and NGO volunteers, to refugees and photographers of the Arab Uprising of 2011. Some of those productions include "Cosmogony" (short, 2016), "Objects in the museum" (tv series, 10 episodes, 2015), "Eclats Of Africa" (documentary, 2012), "A Day of Resistance" (documentary, 2010), "I Reggiani, per esempio" (tv series, 20 episodes, 2009), "Leaning Left" (documentary, 2008), "The Seasons of Campotrera" (documentary, 2008), "The Documentary" (short, 2005), "Ask the Dust..." (documentary, 2004).
Publications:
"Visuality and Migration: Two Crises in Gianfranco Rosi's Documentary Fire at Sea (2016)".  [in]Transition, Journal of Videographic Film & Moving Image Studies, 7.3 (2020).
"Report: The 2017 American Association for Italian Studies/Canadian Society for Italian Studies Annual Conference: Recent Trends In Italian Screen Studies." The Italianist (37. 2), 273-79. Co-author.
"Post Truth, Gender and Race: an Analysis of the Vote in Ohio." Inchiesta (n.194, 2016), 71-74.