April 13, 2018
New course brings international pop star Bruno Pelletier to Ohio State
Image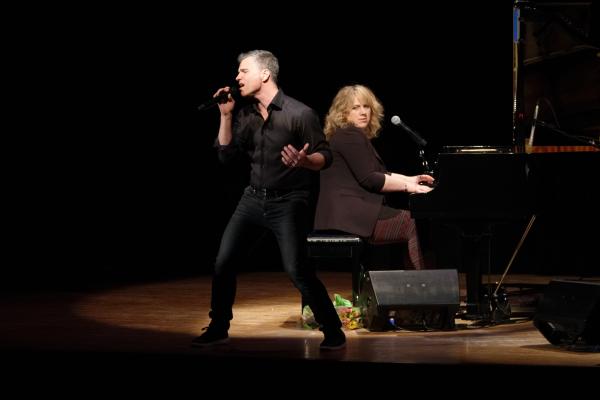 Description
In Quebec, popular songs have played and continue to play an important role in affirming Quebec's distinct linguistic and cultural identity in North America. Professor Wynne Wong created a new course this spring (offered under French 3403) that initiates students to the culture of Quebec via the study of la chanson québécoise. Students in this class were given the opportunity of a lifetime when international pop star Bruno Pelletier (whom they had been studying in class) walked into their classroom on April 3 to share his experiences with them and to answer their questions. This visit was made possible in part by an Ohio-Five Mellon Language Grant. Bruno candidly shared in French with students in this course (as well as with OSU alum Steve Hedge's high school students from Grandview Heights High School) the path he took with its ups and downs to becoming the international star that he is today. An important message that he left with students was that it is normal to have doubts and to be uncertain about the direction of one's future, but that with hard work and perseverance, anything is possible.
Students were visibly star-struck as they listened to one of the most famous performers of Quebec speak to them.
"I couldn't believe that Bruno was really coming to our class until I saw him in person," said student Nick Huang.
"It felt very surreal to come to class and to see M. Pelletier in person," said student Rachel Tuskes.
"His talk offered insight beyond the topic of Quebec culture and even the music industry," said student Molly Duncan.  "His talk encouraged us to never lose positivity and perseverance in the face of adversity."
"Our classroom should now officially be renamed "la salle Bruno Pelletier," suggested student Anna Ross.
A three-time Félix award winner (equivalent to the Grammy) for best male vocalist of the year in Quebec (among a long trail of other honors), Bruno appeared equally touched by his visit with the students and seemed pleased with his role as cultural ambassador of Quebec: "This was more than successful. It was a true exchange…love for language, love for culture, and so much more. I was initially not sure what to expect, but some of their questions unleased baggage that I didn't even know was there. I discovered that what I had to share from my own journey as an artist was relatable and pertinent to their lives."
In the evening, Bruno gave a free concert accompanied by the equally talented, award-winning jazz pianist Julie Lamontagne to a captivated audience at Grandview Heights High School Auditorium. In addition to singing some of the most beautiful songs from the French-speaking world, he also performed songs in English and Italian, making the evening also about the celebration of multiculturalism. Despite a tornado warning 30 minutes before the show, approximately 600 people attended this performance, including students from Denison University and fans who drove in from Tennessee and Nebraska to hear him sing. The performance was also attended by Martin Dionne from the Délégation du Québec de Chicago, one of the sponsors of this event.
One of the highlights of the night was when Bruno jumped off the stage to sing his hit "Le temps des cathédrales" with the audience. The roaring energy of the crowd left no doubt that something very special was happening here in Ohio and that this was a magical evening that will be remembered for a very long time.
"M. Pelletier created an intimate space where I felt like he was communicating with me as an audience member through his stage presence and his vocal performance in a way that was truly enchanting," said student Rachel Tuskes.
"I got chills through many of his songs," said student Molly Duncan. "I was so pleasantly surprised by the variety of genres he performed - everything from opera to rock to jazz. It was such a special night."
"This was a moment I will remember for the rest of my life," said student Tyler Simons.
Upon his return to Quebec, Bruno left us with these words: "What pleasure to see that our language and culture have traveled so far, thanks to people like you who have embraced us. Wow! All the experiences and beautiful moments we shared with you will be imprinted in our hearts for a very long time."
Video of Bruno Pelletier's visit with French 3403 students
Check out a few of the performances from the night:
https://www.youtube.com/watch?v=OFVn0hN3kKM
https://www.youtube.com/watch?v=dRUhlLqgshg
https://www.youtube.com/watch?v=d7NGoclFrDY
---