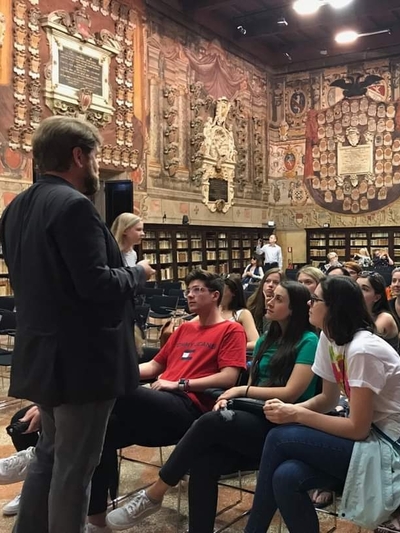 Jonathan Combs-Schilling
Assistant Professor of Italian
215 Hagerty Hall
1775 College Road
Columbus, OH
43210

Office Hours
Autumn 2020 (virtual via Zoom):
Wednesday: 5:00 - 6:00 pm
Friday: 12:30 pm - 1:30 pm
and by appointment.

Current students will find the Zoom link for office hours in their syllabuses; other interested parties should email the professor for the link.
Areas of Expertise
Medieval and Renaissance Italian literature
Dante Studies
Pastoral and Epic
Literary geographies
Education
Ph.D., Italian Studies, University of California, Berkeley, 2012
B.A., Italian, Columbia University, 2002, summa cum laude
Jonathan Combs-Schilling's principal field of research and teaching is Medieval and Renaissance Italian culture from the 13th to the 16th centuries. His interests include Dante, Petrarch and Boccaccio; classical and Italian traditions of pastoral and epic; neo-Latin poetry; travel literature; and literary representations of the sea. His publications, on authors from Dante to Tasso, have appeared in venues such as Modern Language Notes and Dante Studies. He is currently completing a monograph entitled The Edge of Pastoral: Dante, Petrarch, Boccaccio, which shows how the tre corone's treatment of epistolarity, genre, language and politics transforms the post-classical history of pastoral. He regularly teaches undergraduate classes on Dante's Comedy, Italian travel, romance narratives from the Middle Ages to the present, and the history of "Italian" culture from ancient Rome to Berlusconi; as well as graduate seminars on Dante Studies, the Latin Petrarch, Boccaccio's Decameron, and Renaissance and Apocalypse (1494-1527).
Pronouns
He/him/his